2021 Ford Escape : comfort and economy
The 2021 Ford Escape picks up where his brother left off last year. It doesn't change much in terms of silhouette and retains its distinctive look, streamlined and aerodynamic shapes.
The most standard gasoline-powered versions also retain the Ecoboost engine, which combines power and economy. However, new versions of the Ford Escape will be introduced in 2021, including a plug-in hybrid capable of electric driving without sacrificing driving pleasure.
All this while still offering the driving pleasure of a compact SUV and the comfort of a modern, well- thought-out vehicle.
Find out about this model
Safety first
Like the other family members, the Ford Escape is equipped with the CoPilote 360 system. This set of on-board electronic systems provides essential driver assistance, allowing the driver to provide an even safer ride for the vehicle's occupants.
But Ford adds, as an option or standard depending on the version, the CoPilote 360+, which notably adds adaptive cruise control to the safety accessories. The system also offers traffic sign recognition.
And for added safety and to make sure you keep your eyes on the road, the Ford Escape has an optional head-up display. The driver then faces all the necessary driving information without having to look down at the dashboard.
Comfort and entertainment
Just because the Ford Escape is small doesn't mean it doesn't have all the most advanced comfort and entertainment technologies. The available Sync system, for example, helps integrate smartphones by adding Apple Car Play and Android auto to the system's already abundant features. It is also recognized as one of the most sophisticated voice control systems on the market.
A B&O audio system, standard on Titanium versions, transforms the cockpit into a veritable concert hall, sounding the music on board with remarkable precision.
When it comes to comfort, the Ford Escape doesn't neglect anything either. Heated seats, heated steering wheel, heated wipers and engine block heater are standard on all versions.
Interior space is abundant, and rear-seat clearance is particularly impressive for a utility vehicle of this size. Cargo space is equally large and even features an optional foot-operated power tailgate.
Powerful and economical
The mechanics of the 2021 Ford Escape continue to evolve. The basic versions keep the already known Ecoboost engines. The basic versions are offered with the 180-hp, 1.5-litre, 3-cylinder Ecoboost engine, which is mated to an 8-speed automatic transmission. A small detail, this is the only Ford Escape model that cannot be equipped with an all-wheel drive.
A second engine, a 4-cylinder 2.0-litre Ecoboost, is offered with all-wheel drive as standard. Its 250 horsepower and 275 pound-feet of torque are surprisingly powerful and allow for brisk acceleration. The
8-speed Selectshift automatic transmission that equips it can be paired with steering-wheel-mounted paddle shifters.
Two other versions, more economical and ecological than ever, are also available. This is a standard hybrid version, equipped with a 4-cylinder 2.5-litre Atkinson-cycle Atkinson-cycle 4-cylinder engine in a Titanium version. Thus equipped, the vehicle boasts an average fuel consumption rating of 6.9 litres per 100 kilometres in combined mode.
The big news for 2021, however, is the launch of a plug-in hybrid version. Equipped with the same 4- cylinder gasoline engine as its hybrid brother, it adds a larger battery and plug-in charging. It can deliver 209 horsepower and, more importantly, an electric range of some 61 kilometres in gas-free mode.
Conclusion
Compact and stylish, the 2021 Ford Escape is an example of technology and safety, without neglecting driving pleasure. It's the small SUV that will meet the most demanding customers' needs while offering comfort and economy !
Key Facts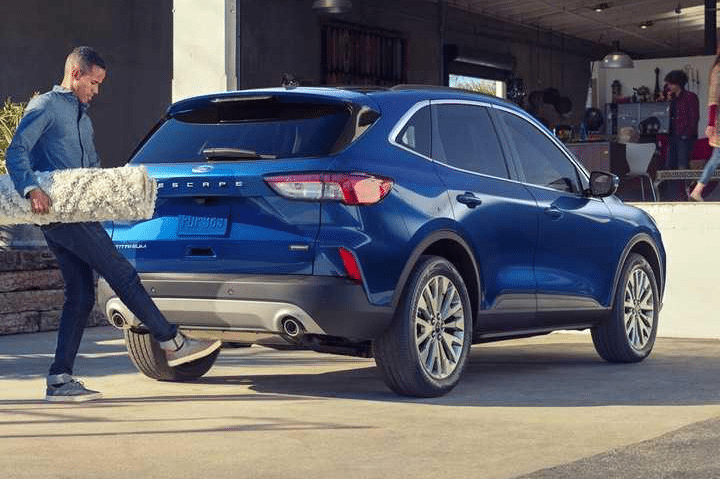 3 cylinder engine 1.5 liter standard
4 cylinder engine 2.0 l turbo optional
Hybrid and plug-in hybrid versions
Optional integral gear
5 driving modes
Heads up display offered
Parking assistance
Sync3 system
FordPass compatible
Ford CoPilot360 System
Parking assistance
Waze integration
---
---